Title:
Chief Technology Ventures Officer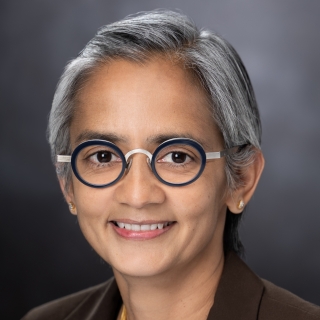 Asha Rajagopal is the Chief Technology Ventures Officer at MIT Lincoln Laboratory. She joined the Technology Ventures Office in 2023 with more than 18 years of experience in managing intellectual property (IP) portfolios and industry-university partnerships.
Prior to joining Lincoln Laboratory, Rajagopal led the Office of Technology Transfer at Rice University, where she oversaw the negotiation of industry and academic research contracts and managed the IP strategy for the university's technology portfolio. While at Rice, she led efforts to draft and adopt a new IP policy, introduced processes for IP management that saw significant patent savings, and increased annual license revenues for the university.
Rajagopal was recruited to Rice from the University of Texas at Dallas, where she first served as the assistant director of the Office of Technology Commercialization and then later as the office's director. During her tenure there, she created the Technology Translation Lab to evaluate technologies for their ability to meet specific market needs. She recruited the in-house patent counsel to the IP management team to make patent reimbursement more affordable for university spin-outs, and she restructured the office to create specific business units that could be more responsive to patent prosecution deadlines and faculty expectations.
Rajagopal trained as a licensing associate at the University of Texas Southwestern Medical Center for eight years and in that setting learned the fundamentals of patent portfolio management, license negotiation, and industrial contract drafting for the university's sponsored research efforts.
Rajagopal holds bachelor's degrees in English and Plan II Honors, as well as master's degrees in English and biology, from the University of Texas at Austin. She received her doctorate degree in cell and molecular biology from the Rockefeller University.