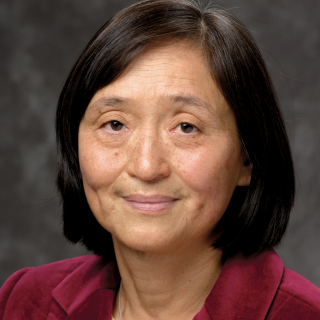 Dr. Hsiao-hua K. Burke is a principal staff member in the Air, Missile, and Maritme Defense Technology Division at MIT Lincoln Laboratory. From 2009 to 2014, she served as the head of that division.
Burke joined Lincoln Laboratory in 1981 and has served in a number of leadership positions across the Laboratory, including leader of the Sensor Technology and System Applications Group, assistant head of the Tactical Systems Technology Division, associate head of the Aerospace Division, and head of the Air and Missile Defense Technology Division. In that last role, she provided leadership supporting the development of integrated ballistic missile defense systems for the Missile Defense Agency, air defense systems for the Navy, and prototype sensor development and data exploitation for intelligence programs.
Burke has served the Lincoln Laboratory community in many capacities: chairing the New Technology Initiatives Board (2006–2008), which proactively engages the Laboratory community to identify latest user needs, capability drivers, and enabling technologies to support the Laboratory's mission areas; co-chairing a Decision Support Study (2009) to identify the Laboratory's future leadership role in this domain; and initiating the Lincoln Laboratory Technical Women's Network (LLTWN, 2008) to serve more than 300 technical women at the Laboratory and to promote diversity and inclusion in the workforce. For her involvement with LLTWN, she received a 2010 MIT Excellence Award for Fostering Diversity and Inclusion.
Burke is the recipient of the 2001 NASA Award for outstanding support and dedication on the Hyperspectral Strategy Study. In 2006, she was elected to the Air Force Scientific Advisory Board (AF SAB) and served as a member until 2010. As an AF SAB member, she chaired, co-chaired, or participated in seven national studies. In 2010, she received the Department of the Air Force Award for Meritorious Civilian Service for her outstanding service to the AF SAB.
She was named a 2013 Fellow of the American Institute of Aeronautics and Astronautics (AIAA) for "outstanding leadership in the development of missile defense systems, hyperspectral imaging technology and algorithms, and satellite systems for military and civilian applications." The distinction of Fellow recognizes AIAA members whose careers have been marked by longstanding, exceptional, and valuable contributions to the fields of aeronautics and astronautics. Under the new AIAA Diversity Initiative, she is part of the Executive Team for the AIAA Diversity Working Group.
Burke holds a BS degree in physics from Tunghai University, Taiwan, and a PhD degree in space physics and astronomy from Rice University, Houston, Texas.