Title:
Software Engineer and Integrator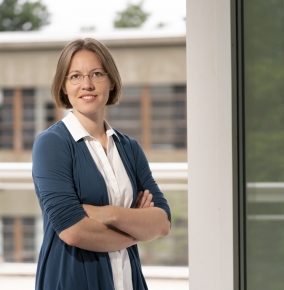 We're always looking for how to translate today's results into tomorrow's preparedness.
Tell us about your work at the Laboratory. What kinds of problems are you developing technology to address?

Since COVID began, I've been working on systems to help individuals and organizations (public health teams, as well as campus and Lincoln Laboratory) understand their risk exposure, so that they can adjust their strategies and take appropriate follow-up actions to an exposure event. For the individual and states, this system is the internationally adopted Exposure Notification implementation of the PACT protocol, which MIT and Lab staff designed last year and which Google and Apple implemented. We've been supporting U.S. states as they pilot and deploy the system, and helping the CDC evaluate it as a strategy for fighting COVID. For the MIT campus and the Lab, we designed and implemented the MIT COVID Response System and Lincoln Laboratory Health System dashboards, and continue to maintain those systems.
More generally speaking, I work on designing and developing novel sensor networks to provide situational awareness of developing threats.
What inspired you to pursue your line of work?
I enjoy making tools that help people solve problems. Computer science grabbed me freshman year of college, maybe because of the extreme flexibility of ones and zeros and software to manipulate them (in contrast to, say, physical materials). The pun of "zero/null => false; all else => true" delighted me deeply.
Are there any specific facilities at the Lab that are enabling your research?
During the last year, I've worked with staff in the Control and Autonomous Systems Engineering Group to collect Bluetooth data using human-analogue robots in the Autonomous Systems Development Facility. Having the space available and the skills of those staff enabled us to do a rigorous data collection in a relatively short period of time. Our Technical Communications Office has also been invaluable in helping us convey the results of our work, using data-enhanced video.
What excites or challenges you most about your R&D work today?
It's rarely enough at Lincoln Laboratory to say "did that thing, now it's over" — we're always looking for how to translate today's results into tomorrow's preparedness. We have to anticipate the ways in which today's systems, technological AND social, will be challenged by new information or new developments.
What is a goal you would like to accomplish in your lifetime?
Launching our four kids into adulthood and seeing them contribute to society!