Title:
Software Engineer and Algorithm Developer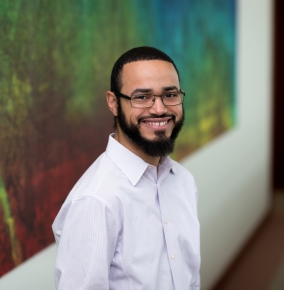 I take a lot of pride in the algorithms and software that we are developing. These capabilities are driving monitoring systems that have the potential to save lives.
Ronald was at a crossroads after earning his master's in computer engineering: he wanted to keep researching as he did at school, but he also wanted to start building software to solve real challenges. "Lincoln Laboratory is a place where I get to follow both passions," says Ronald, who joined the Lab soon after graduation. Day to day, Ronald is studying, developing, and implementing computer vision and machine learning software that, for example, helps security officials prevent terrorist attacks in subway stations. One of these software tools condenses hours of video footage into a seconds-long clip that makes it easy for viewers to identify suspicious activity. Today, this system is being tested in subway surveillance systems around the country.
Beyond developing these tools, Ronald is leading software teams behind these tools. He says that the trust his supervisors had in him to lead so early into his career meant a lot to him, and he's proud of the successes he and his team members have had. "We have won several awards, including an R&D 100 for our video content summarization tool. I feel very blessed to be able to have an influence on the way software is developed at Lincoln Laboratory."