Vocal Biomarker-Based PTSD Screening Tool
Psychological disorders have been shown to impact speech patterns. The PTSD screening tool will be able to detect these patterns and therefore inform military healthcare monitoring.
Approximately 87% of military service members have been exposed to at least one potentially traumatic event. Mental health screening tools often rely on patient self-reporting, yet there is a perception among service members that seeking mental health treatment is a sign of weakness and has the potential to end their career. Many of these tools are also implemented in a stand-alone setting that allows patients to minimize their symptoms and under-report the prevalence of problems.
Laboratory researchers are building a new screening tool that can detect the presence of PTSD using vocal biomarkers, such as pitch, creak, and articulatory dynamics, present in a person's voice. The team is working toward clinical acceptance of this approach by developing tools to visualize subtle changes in movements (tongue, lips, jaw) of an articulator who has the PTSD condition. (Real-time magnetic resonance imaging [MRI] imaging, along with articulatory trajectories, may provide physiological insight into coordination manifested in different mental states.) Ideally, the tool would be adopted as part of routine healthcare monitoring in the military in order to bypass the difficulties caused by unreliable self-reporting and enable more service members to get the help that they need.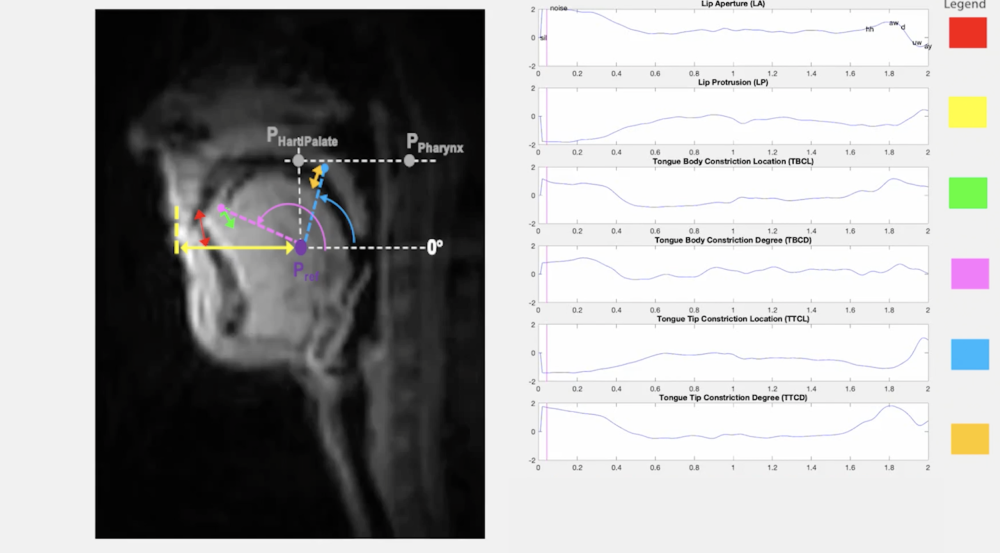 Vocal biomarkers are acoustical patterns present in speech that are linked to brain function. Previous research has shown that psychological disorders can impact these patterns in a way that is detectable. To build this tool, Laboratory researchers used hundreds of recordings from clinical interviews between healthcare providers and patients with and without PTSD to develop a predictive algorithm. The tool involves recording live audio, processing the audio data through a signal processing pipeline, and assigning a predictive clinician-administered PTSD scale (CAPS) score. A healthcare professional can then use the data determine whether or not to recommend further investigation. Thus far, the tool predicts CAPS score with an area under the curve performance of 0.75. A tool with this level of performance could help significantly in identifying service members affected by PTSD who may not have otherwise sought a mental health diagnosis.
Currently, the team is building an operational prototype of this tool and working with healthcare providers to establish a proper use protocol. The near-term goal is for the tool to be adopted within the military and a long-term goal is to transition it to a commercial partner for use in civilian settings.