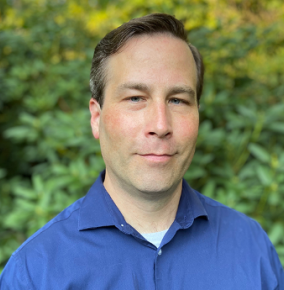 I enjoy organizing a team of bright, motivated people who play well with others and know how to work as a team.
Where are you originally from?
I grew up in Wilmington, North Carolina, and spent my summers at Wrightsville Beach and out on the Intercoastal Waterway. Wilmington was a really nice place to grow up, but I didn't really know any adults who were scientists or engineers. I got a computer for Christmas as a teenager and I taught myself programming. It wasn't until I went to college that I met anyone who worked in a technical field.
What do you do at the Laboratory?
I lead small, multidisciplinary teams designing secure and resilient software-intensive systems prototypes and testbeds for defense and intelligence community sponsors. We help the government evaluate emerging technologies and methodologies and determine how to leverage those emerging technologies to build next-generation government mission systems. We build prototypes to demonstrate proofs of concept and make sure architectures and technologies that sound good in theory actually work in practice. We build testbeds to integrate different technologies and to understand and evaluate how those technologies actually behave in a real system.
What do you enjoy most about your job?
I enjoy organizing a team of bright, motivated people who play well with others and know how to work as a team. I'd have to say the people I work with every day are what I enjoy most about my job. A close second is the opportunity to stay abreast of emerging technologies and actually build things with those technologies.
Is there a personal achievement that stands out to you in your career at the Laboratory?
In 2014, I was presented with an MIT Excellence Award for "Bringing Out The Best" based largely on the nomination letters written by my teammates on the Secure Cloud Storage project and my group leaders. I've always greatly valued the respect of the people I work with on a daily basis, and I was both honored and humbled by the words they wrote in support of my nomination.
What are your favorite hobbies?
I'm the computer and WiFi technical support for most of my relatives. Is that a hobby? I don't really have a choice in the matter so maybe not. I've been a singer in bands on and off since I was a teenager. My current cover band is with a bunch of Laboratory guys. We're called Beats Workin'. I've also been downhill skiing since I was a kid and I take my family skiing several times each winter.

If you could wake up tomorrow with one ability you don't currently have, what would it be?
Magic. I used to read fantasy novels as a kid and I never outgrew my childish fascination with magic. Not "rabbit out of a hat" magic or "sawing someone in half" magic, but something more along the lines of Gandalf or Harry Potter. Genuine magic