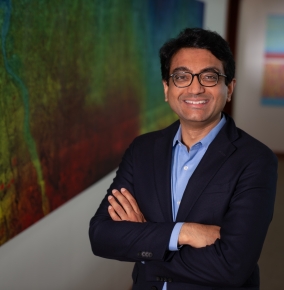 Space — and space technology — inspires me.
How did you come to join the Laboratory, and what does your research focus on?
I joined the Laboratory in 2015 from Silicon Valley. I was primarily interested in learning about and working on free-space optical communication, aka lasercom [laser communication], systems. My research primarily focuses on system-of-systems architecture development and design, and prototyping of communication systems. This focus includes RF SATCOM [radio-frequency satellite communication] and lasercom systems and underlying networking architectures for resilient mission data transport for warfighters. I have worked on first-of-their kind demonstrations in both RF SATCOM and lasercom for the U.S. Space Force and Air Force. Lately, I have also been developing software-defined network systems for seamless integration of lasercom and RF SATCOM capabilities. Lasercom systems can provide significantly higher data rates and enhanced jamming resiliency compared to RF SATCOM, though RF SATCOM is an essential complement for reliable all-weather beyond-line-of-sight communications.
How did you become interested in STEM?
I developed an affinity for aviation and human flight from a young age. A mock photograph of my father commanding the controls of a space shuttle at Johnson Space Center sealed my career trajectory. I have a broad field of study spanning electrical engineering, aeronautics and astronautics, computer science, and management science and engineering. Space system design and development is a multidisciplinary endeavor. My broad field of study is rooted in complex space systems. Space — and space technology — inspires me.
What excites you most about the future of your field?
Until a decade ago, space technology development was primarily the bastion of large national space organizations. Over the past 10 years, numerous venture capital–funded startups have upended this paradigm. A whole new ecosystem, often referred to as New Space, has become commercially viable. The current agility and scale of disruptive space technology development has had no prior precedent. Human space exploration is extremely hard and potentially dangerous but is becoming cheaper and more of a reality with each passing day. I look forward to the day when the first human lands on Mars.
If you could meet anybody, who would you meet and why?
I would meet Steve Jobs. His 2005 Stanford commencement address put into perspective the various ups and downs in life, both professional and personal. He was a visionary innovator who could seamlessly meld technology, art, and business considerations into every product development he oversaw.
What are you passionate about outside of your technical work?
I have enjoyed looking at publicly traded company financials since my teenage years. This interest led to me pursuing multiple credentials in finance and accounting over the years. During my quest to purchase a home in the Boston area, I became a licensed real estate salesperson, finding not only my own home but also helping others find their dream homes. Lately, I've been using artificial intelligence and machine learning approaches to characterize the real estate landscape.