Laser Aircraft Strike Suppression Optical System
A system that detects laser beams being shone into the sky and alerts police of their source can help protect pilots and aircraft.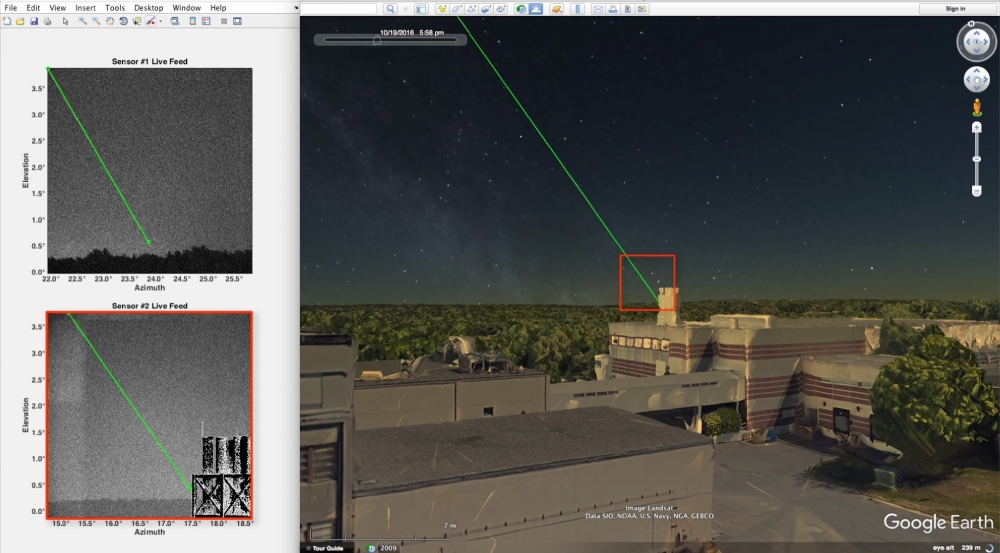 A growing safety concern for pilots and aircraft passengers is laser strikes. Aiming high-power lasers at aircraft poses serious dangers, from distracting pilots during crucial moments in flight to causing temporary or even permanent eye damage to pilots and passengers. It's difficult for law enforcement to pinpoint the source of the beam and to get to the perpetrators in time. To accomplish both of those tasks, we've developed the Laser Aircraft Strike Suppression Optical System (LASSOS). LASSOS is a ground-based system consisting of at least two high-sensitivity, low-noise charge-coupled device cameras set up at different vantage points. When a laser beam is shone, the cameras image the small fraction of light that is scattered by air molecules. The system then digitally reconstructs the beam and integrates it with Google Earth so that it appears on the map in near-real time, depicting its point of origin and most probable path through the sky. Within thirty seconds, the system notifies law enforcement and provides them with the GPS coordinates and time of incident. Officers would now be able to quickly apprehend perpetrators, keeping the skies safe and deterring future incidents.