Hayley J. Davison Reynolds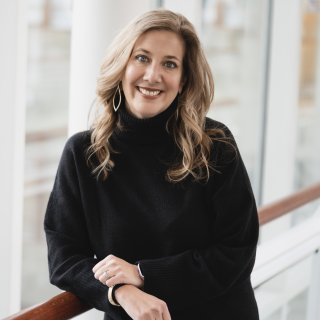 Dr. Hayley J. Davison Reynolds is the leader of the Human Health and Performance Systems Group, overseeing the neurocognitive technologies portfolio within the group. She joined the Laboratory as a technical staff member in 2009.
She currently strategizes how neurocognitive sensors and models, and decision support utilizing these capabilities, can aid human health and performance in the Department of Defense and beyond. Some of the technologies developed as part of this strategy include a post-traumatic stress disorder (PTSD) screening tool utilizing vocal biomarkers; pilot training technologies utilizing physiological, eye tracking, and brain activity data; and law enforcement training technologies to improve human trafficking survivor interviews.
As a technical staff member, Reynolds specialized in human-machine teaming, and she provided systems engineering design, requirements elicitation and definition, and quantitative benefits assessment for technologies across the Laboratory in the areas of biotechnology, air traffic control, disaster response, and counter–human trafficking. She has written numerous publications and book chapters in the areas of human-systems integration, serious gaming and training, and aviation systems. She currently serves as an editor and reviewer of the "Journal of Cognitive Engineering and Decision Making," and she has presented at multiple conferences in the fields of human factors, naturalistic decision making, aviation, and air traffic control.
Reynolds joined the Laboratory after designing and evaluating interfaces for Microsoft Research, Yahoo UK, and others at a human-computer interaction consultancy in Cambridge, United Kingdom. She graduated with a PhD degree in aeronautical systems and applied psychology, an SM degree in aeronautics and astronautics from MIT, and a BS degree in psychology from the University of Illinois at Urbana-Champaign. While at MIT, she was awarded the Zonta International Amelia Earhart Fellowship and was a National Science Foundation Fellow.