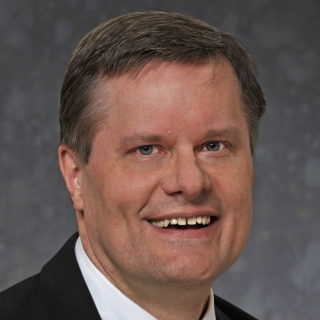 Dr. Joseph P. Campbell is the leader of the Artificial Intelligence Technology and Systems Group. His group creates algorithms, technologies, and systems for extracting information from multimedia data in adverse conditions and has a rich heritage of world-leading speech, speaker, and language recognition technologies. Campbell is passionate about developing human-network AI technologies that extract information automatically from speech, text, image, and video data combined with network communications and activities to help the Department of Defense and law enforcement identify threatening or illicit activity on the surface and dark webs. He specializes in developing and transferring AI technologies for government applications and operationally relevant evaluation.
Campbell has written more than 100 refereed publications cited over 6,600 times. His invited tutorial on speaker recognition, published in the Proceedings of the IEEE, has received more than 2,150 citations. He holds one U.S. patent and led two U.S. Federal Standards, one Federal Information Processing Standard, and one NATO Standardization Agreement.
Campbell is a member of the Advisory Board for the Human Language Technology Center of Excellence at Johns Hopkins University, a co-chair of the Speaker and Language Characterization Special Interest Group of the International Speech Communication Association, and co-chair of the MIT Lincoln Laboratory Professional Societies Committee.
He is a member of the IEEE Signal Processing and Communications Societies, the International Speech Communication Association, Sigma Xi, the Boston Audio Society, the Acoustical Society of America, and a Senior Member of the American Institute of Aeronautics and Astronautics. Campbell was named a Fellow of the IEEE "for leadership in biometrics, speech systems, and government applications" in 2005.
He joined Lincoln Laboratory in 2001 as a senior staff member after teaching at Johns Hopkins University and serving 22 years at the National Security Agency (NSA).
From 1991 to 1998, Campbell was a senior scientist in the NSA Biometric Technology Research Group and led voice verification research. From 1994 to 1998, he chaired the Biometric Consortium (known today as FedID, the AFCEA Federal ID Forum and Expo), the U.S. government's focal point for research, development, test, evaluation, and application of biometric-based personal identification and verification technology. From 1998 to 2001, he led the Acoustics Section of the NSA's Speech Research Branch, conducting and coordinating research on and evaluation of speaker recognition, language identification, gender identification, and speech activity detection methods. From 1991 to 2001, Campbell taught speech processing at Johns Hopkins University.
From 1979 to 1990, Campbell was a member of the NSA's Narrowband Secure Voice Technology Research Group. He and his teammates developed the first DSP-chip software modem and 2400-bps LPC-10e, which enhanced the Federal Standard 1015 voice coder and improved U.S. and NATO secure-voice systems, including 300,000 Secure Telephone Units–Third Generation (STU-III). He was the principal investigator and led the U.S. government's speech coding team in developing the 4800-bps CELP voice coder jointly with AT&T Bell Laboratories, which became Federal Standard 1016, provided improved voice quality in later STU-IIIs, and is the foundation of digital cellular voice systems and voice over the Internet Protocol systems.
Campbell was a member of the IEEE Speech Technical Committee (1989–1992), an associate editor of the IEEE Transactions on Speech and Audio Processing (1991–1999), an IEEE Signal Processing Society Distinguished Lecturer (2001–2002), a member of the IEEE Signal Processing Society's Board of Governors (2002–2004), a co-editor of the Digital Signal Processing journal (1998–2005), a member of the IEEE Information Forensics Security Technical Committee (2005–2009), and a member of the IEEE Signal Processing Society's Fellow Reference Committee (2007–2010). Joe was a member of the National Research Council's National Academy of Sciences' Whither Biometrics? Committee that produced the book Biometric Recognition: Challenges and Opportunities (2004–2010). He served as the vice president for technical activities of the IEEE Biometrics Council (2008–2011), vice chair of the Acoustical Society of America's Forensic Acoustics Subcommittee (2011–2013), chair of the IEEE Biometrics Council's Technical Committee (2011–2013), chair of the IEEE Jack S. Kilby Signal Processing Medal Committee (2012–2013), and was a member of the IEEE Medals Council (2012–2013). Joe served as vice chair of the IEEE Awards Board's Awards Planning and Policy Committee (2016–2017) and he chaired the Speaker Recognition Subcommittee of the NIST Organization of Scientific Area Committees (2016–2017).
Campbell earned BS, MS, and PhD degrees in electrical engineering from Rensselaer Polytechnic Institute, Johns Hopkins University, and Oklahoma State University, respectively. He received Oklahoma State University's Graduate Research Award for best dissertation across all the colleges, "Features and Measures for Speaker Recognition."