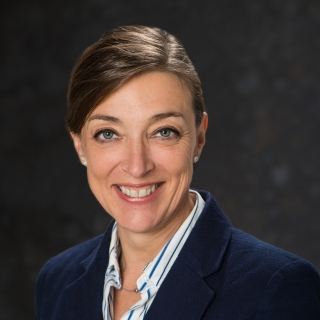 Dr. Pascale M. Gouker is a senior technical staff member in the Quantum Information & Integrated Nanosystems Group. She is leading programs and pursuing research in the area of novel device design, fabrication processes, and circuit designs for extreme environment applications.
Gouker's past accomplishments include the development of radiation hardened silicon-on-insulator (SOI) substrates and fabrication processes for low-power fully depleted SOI (FDSOI) CMOS circuits. She also characterized and modeled for the first time single-event transient effects in 2D and densely integrated 3D SOI circuits. This work enabled a deeper understanding of the basic radiation effect mechanisms and the development of radiation-hardened digital SOI CMOS circuits. She has also characterized the effects of radiation in various emerging electronic device technologies and contributed to the development of advanced fabrication techniques for ground-based and spaced-based imagers.
Prior to joining the laboratory, Gouker worked at Analog Devices to support the design of digital signal processing and mixed-signal circuits in advanced CMOS technologies, and at Spire Corporation on the growth of high-performance III-V heterojunction bipolar, high-electron mobility transistors and solar cells using metalorganic chemical vapor deposition techniques.
Gouker has authored or coauthored more than 40 papers in referred journals and conference presentations in the field of semiconductor devices and radiation effects. She has served as an associate editor of the IEEE Transactions on Nuclear Science (TNS) and a member of the IEEE Nuclear Plasma Sciences Society Radiation Effects Steering Group. She has been on the technical program committee of the IEEE Nuclear and Space Radiation Effects Conference (NSREC) in 2009 and 2013, and the IEEE S3S Conference since 2011. She was the lead editor for the 2013 IEEE TNS Special Issue providing a comprehensive history of the radiation effect field as well as state-of-the-art review articles. She has been a technical reviewer for several journals and conferences including, the IEEE TNS, the NSREC, S3S, the Single Event Symposium, the Radiations Effects on Components and Systems Conference, and the Hardened Electronic and Radiation Technology Conference. Gouker received her Diplôme d'Ingénieur (MS degree) in physics and her Docteur Ingénieur (PhD degree) in microelectronics from the National Institute of Applied Sciences (INSA) in Toulouse. She conducted her graduate research at the Georgia Tech Research Institute, Georgia Institute of Technology, in Atlanta, Georgia, on very low-noise, III-V compound multiple quantum well avalanche photodiodes.