Reconnaissance of Influence Operations
New software takes advantage of artificial intelligence techniques to automate the detection and assessment of aggressive influence operations.
Disinformation and propaganda are tools of warfare with an ancient pedigree. However, the contemporary information environment powered by the Internet enables hostile actors to conduct such campaigns with immense scale, speed, and reach. These influence operations have been employed against the United States and our allies in attacks on our democratic processes. In recent months, there have been widespread reports of influence operations undertaken by hostile foreign actors to spread misinformation about the COVID-19 pandemic, threatening public health. Automated methods are needed to detect, characterize, and attribute influence operations at increased speed and scale in order to defeat them.
The Artificial Intelligence Software Architectures and Algorithms Group is developing methods to reveal influence operations undertaken by hostile foreign actors. We have demonstrated an end-to-end software prototype to automate detection of hostile influence narratives, identify accounts engaged in influence operations, and quantify the level of impact each actor has on spreading the narrative within the disinformation network. This framework combines many advanced techniques from artificial intelligence, including natural language processing, machine learning, graph analytics, and a patent-pending approach to measuring influence within a network. Reconnaissance of Influence Operations will illuminate these insidious activities and assist in the identification and disavowal of bad actors.
A preprint on our approach is available here: https://arxiv.org/abs/2005.10879.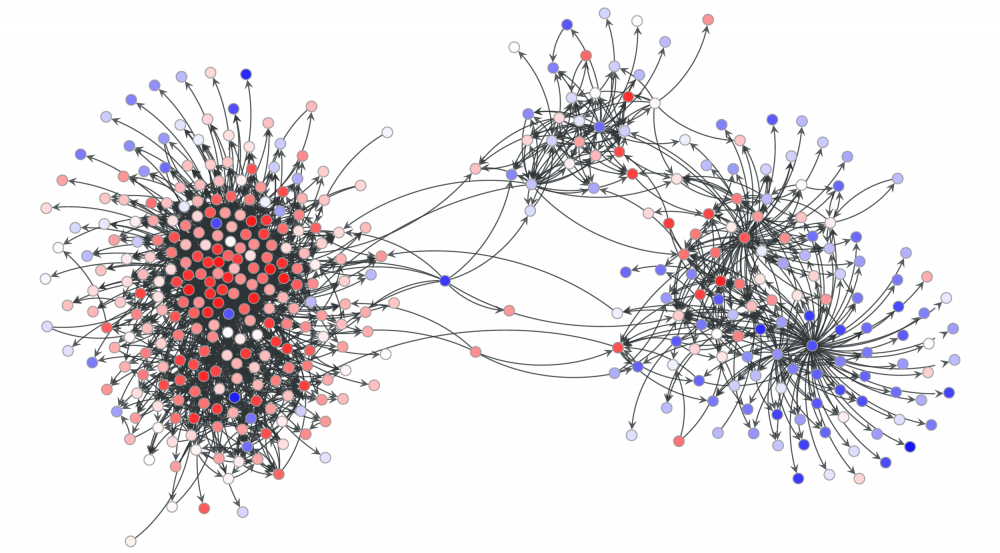 The above image illustrates a retweet network for the #MacronLeaks narrative during the 2017 French presidential election. Each circle represents a Twitter account, and arrows represent "retweets." An arrow pointing from one circle to another means that the second account repeated a post by the first. Color indicates similarity to behavior by accounts known to engage in influence operations, with red indicating high similarity and blue indicating low similarity. Note the separation between the left cluster of accounts hostile to then-candidate Emmanuel Macron, the right cluster of pro-Macron counts, and the small, upper cluster encouraging abstention from the vote.