Space Surveillance Telescope
A unique curved focal surface enables a highly sensitive telescope capable of surveying broad swaths of deep space to detect the faintest objects in the night sky.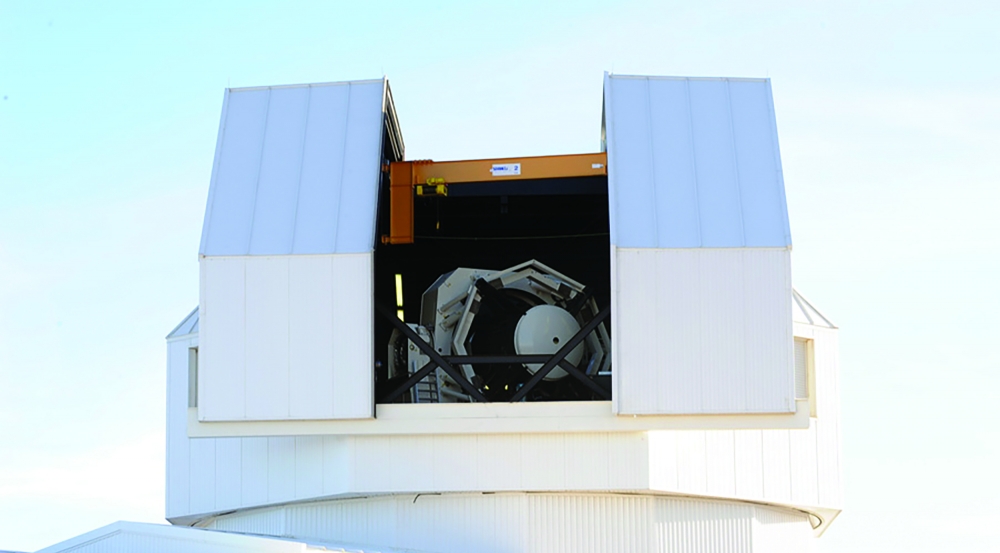 Lincoln Laboratory staff developed the Space Surveillance Telescope (SST), under DARPA sponsorship, to address the threat that an increasing population of microsatellites and space debris poses to the safety of satellites in deep-space orbits. Finding these potential threats requires a sensor that performs high-rate, wide-area searches and has the high sensitivity to detect faint objects in deep space (26,000 miles or more from Earth). For the SST to have such search capability, we chose a compact three-mirror optical design that uses an 11.5-foot aperture with a wide field of view (FOV) and an agile telescope mount. The SST mirror design retains its inherent curved optical focal surface. This design choice allows an FOV much larger than that of a conventional telescope while providing sufficient sensitivity to detect faint objects.
To achieve good image quality across the FOV, our researchers developed thinned, large-format, back-illuminated charge-coupled device (CCD) sensors that can be formed to match the curved focal surface of the telescope mirrors. The SST camera comprises a mosaic of 12 CCDs, 2048 × 4096 pixels each, precisely aligned to the spherical focal surface to enable the system to achieve a very wide FOV. Our design for the SST includes the mission execution and data processing computers and peripherals required to control the system, receive and process in real-time 1 terabyte of image data per night, and communicate the processed data to end users. These features give the SST an unprecedented combination of high search rate, sensitivity, and measurement accuracy that enables surveys that discover faint objects while scanning one-quarter of the sky multiple times per night.
The SST was located at Atom Site on White Sands Missile Range in New Mexico from 2011 to 2017. This mountaintop site was chosen because it provides high-altitude observing in a pristinely dark setting. In 2017, system ownership was transferred from DARPA to the U.S. Air Force. The SST is being relocated from Atom Site to the Naval Communication Station Harold E. Holt on the North West Cape in Western Australia, where, as part of the U.S. Space Surveillance Network, it will be operated jointly by the U.S. Air Force and the Royal Australian Air Force.